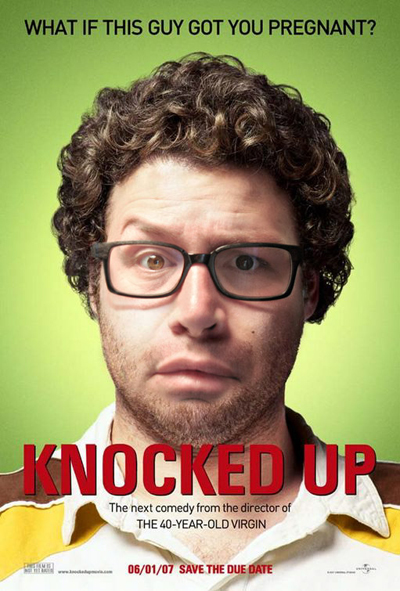 It's never a position you plan to find yourself. It's humiliating, embarrassing and if you could hide it you would. But you know that, eventually, they would find out. Your tummy is getting inordinately large. It's a fact you need to face – Head on.
And I do so now: I went to see Knocked Up with Jeff Hatfield, Kevin Grose and Frank Paul Mastromarino, Jr. (no website) and I'm overweight. It was smack in between Jeff and Frank's 37th birthday. I figured it would be nice to go to a Dodgers game. But first, some antics in lovely Los Angeles. It was "devil's crack" degrees out so "antics" meant a movie in the well air conditioned Universal City Walk theater.
You may recall that I enjoyed, writer/director, Judd Apatow's 40 Year Old Virgin quite a bit. I was looking forward to the 2nd in – what I have coined – his "Relations Trilogy", Knocked Up. As with 40YOV, Apatow has created a touching "Do The Right Thing" tale (not Spike Lee's movie with black people) wrapped in a ton of crude humor.
Since Jeff, Frank, Kevin and I have successfully reproduced (to varying degrees – Jeff can only make girls), we could relate to the main character, Ben (played by Seth Rogan) except that we got our ladies with-child-ed AFTER marrying them. Also, we didn't spend our youth smoking ridiculous amounts of weed. When I say "we" I mean Jeff and me and mostly Frank. Still, I think every guy has had "… I got someone pregnant?" on his "What If" list at some point or another. Right between "… I could fly?" and "… I was a totally rad ninja?".
The cast is pretty perfect. Ben and his buddies (the gang from Freaks and Geeks) were pretty likable but I wouldn't want my daughters to have babies with any of them. At all. NOT because they're Jewish. That's racist. It's because they were a bunch of stoner meshuggeners! Katherine Heigl, part of "team estrogen" on Grey's Anatomy, plays Alison – the baby mama – quite well. The real star of the show is the writing. The scenes of Alison's sister, Debbie (Leslie Mann) and Debbie's husband, Pete (Paul Rudd), are so spot on it felt like Judd Apatow must have been in the car next to mine while my wife and I had one of our "discussions" about how I don't, like, focus or whatever and I'm not or I don't… who's this email to? Oh. Sorry.
I have to say that knocking up my wife was the best thing I've ever done… thrice. I am most likely done having the childrens, but if I could clone my wife and paychecks, I'd want to have a whole gaggle of 'em. Does that make me a Mormon? I know I'm getting this write up out weeks after the film hit theaters and it's probably not that helpful anyway. Does that make me a Moron? Don't hate me. I didn't hate Knocked Up!