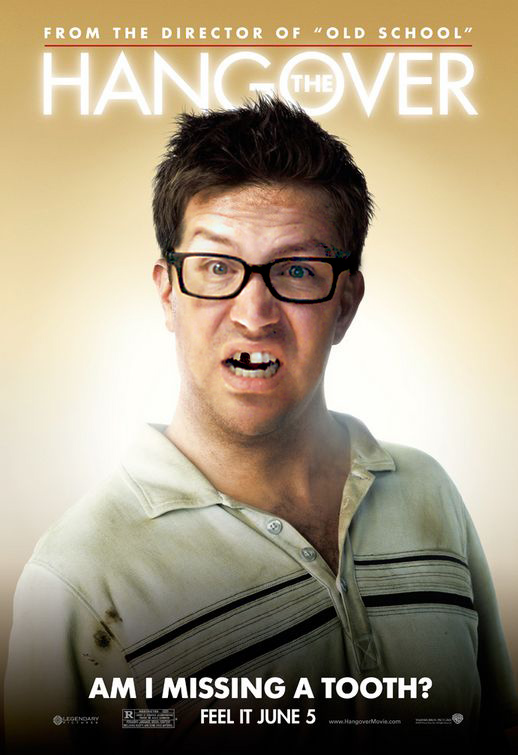 I saw The Hangover a couple weeks ago, but only now can bring myself to type "Zach Galifianakis in a jock strap".
The Hangover is FUNNY! It has the same ratio of raunch to funny as 40yr Old Virgin. It's got to be the funniest situation-type comedy of the year.  Not Huxtable SitCom, mind you. The end credits sequence is insane, but I'm not sure Bill Cosby would approve:)
The 3 groomsmen who lose the groom in Las Vegas are played by Bradley Cooper, Ed Helms & the aforementioned Zach Galifianakis. All three of these guys turned in their most memorable movie roles yet in this one. You would likely recognize Ed Helms from The Office and Bradley Cooper from Alias and other films. I am most pleased to see Zach Glifianakis finally hit it big. He's been doing funny comedy shows and stand up for along time.
My bachelor party experience consists mostly of prayer, sports, farting and food. Not necessarily in that order. So, while I can't claim to have any direct experience with accidental stripper-marrying, I can relate to intense regret and panic. I think we all can. Anyone remember Milli Vanilli?
Actually, there's a stripper in the movie with my wife's name. I know what you're thinking, but I can't install a pole in my room. We rent.
OK, now I'm realizing that I might have offended my wife by suggesting that the only thing keeping me from installing such a thing is the fact that we rent. I was NOT assuming that she would be in any way supportive of the idea even if we owned our home. I'm not sure I would even like it that much, especially after the third or fourth time I ran into it in the middle of the night. Also, houses are expensive where we live. So please forgive me, Jade? Come on, I'll do a naughty little dance for you!
I did not hate The Hangover!